Shute & Merchant
once located at the Head of the Harbor in Gloucester Massachusetts
Shute & Merchant

advertising
---
---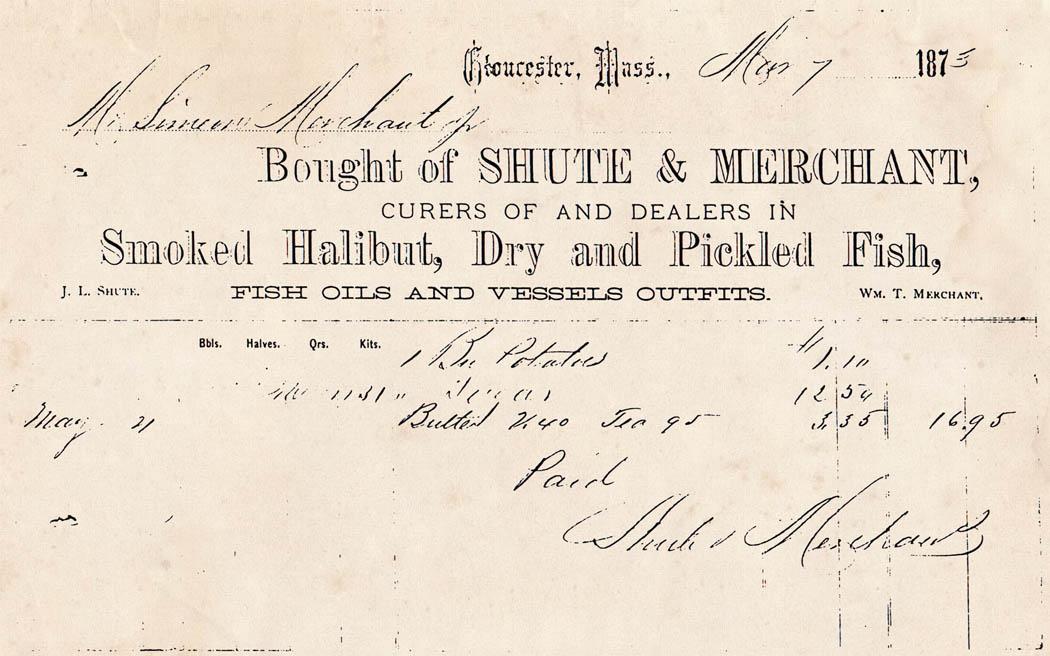 (click on the image to learn more)
The earliest known copy of a Shute & Merchant billhead is from an 1873 bill for items purchased by Simeon Merchant, Jr., who was a cousin of William T. Merchant. As with the earlier ads for the firm, these were printed using fancier type styles but no images. Simeon was apparently purchasing food items, which are part of what the firm sold during its time in the outfitting side of the business.
---
---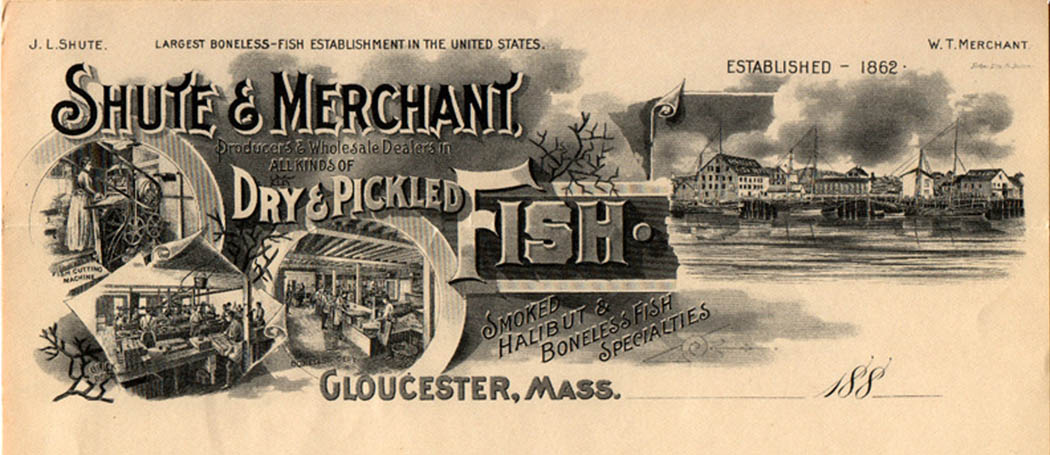 (click on the image to learn more)
This billhead is from the 1880s, and may be the first they used that had a graphic image instead of just fancy typesetting. This is one of the few "never used" copies that had remained with the family. Most of these blank Shute & Merchant billheads were used to wrap around other important family documents. Shute & Merchant was still using this billhead design in 1894. By 1894, and new image had also been selected and was used on other billheads and adcovers. Between the time of the first design used in the 1880s and 1907, the firm had five different billhead styles.
---
---
All in the world of creating printing plates for billheads was not perfect, as these examples of two 1897 envelopes demonstrate. The both seem identical, until one looks at the date Shute & Merchant was established. When the printing plate was initially engraved, the date was put in as 1820, when in fact it should have been 1862. In the lower example, it is easy to see that the original plate was altered to add the correct date. Clearly some of the envelopes were used before the error was caught.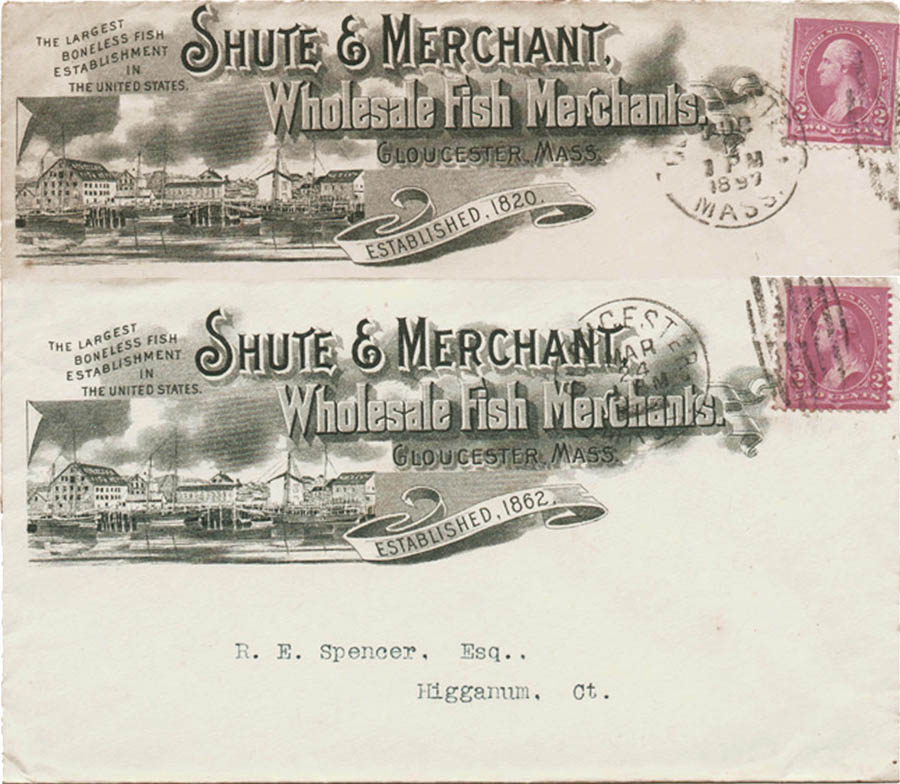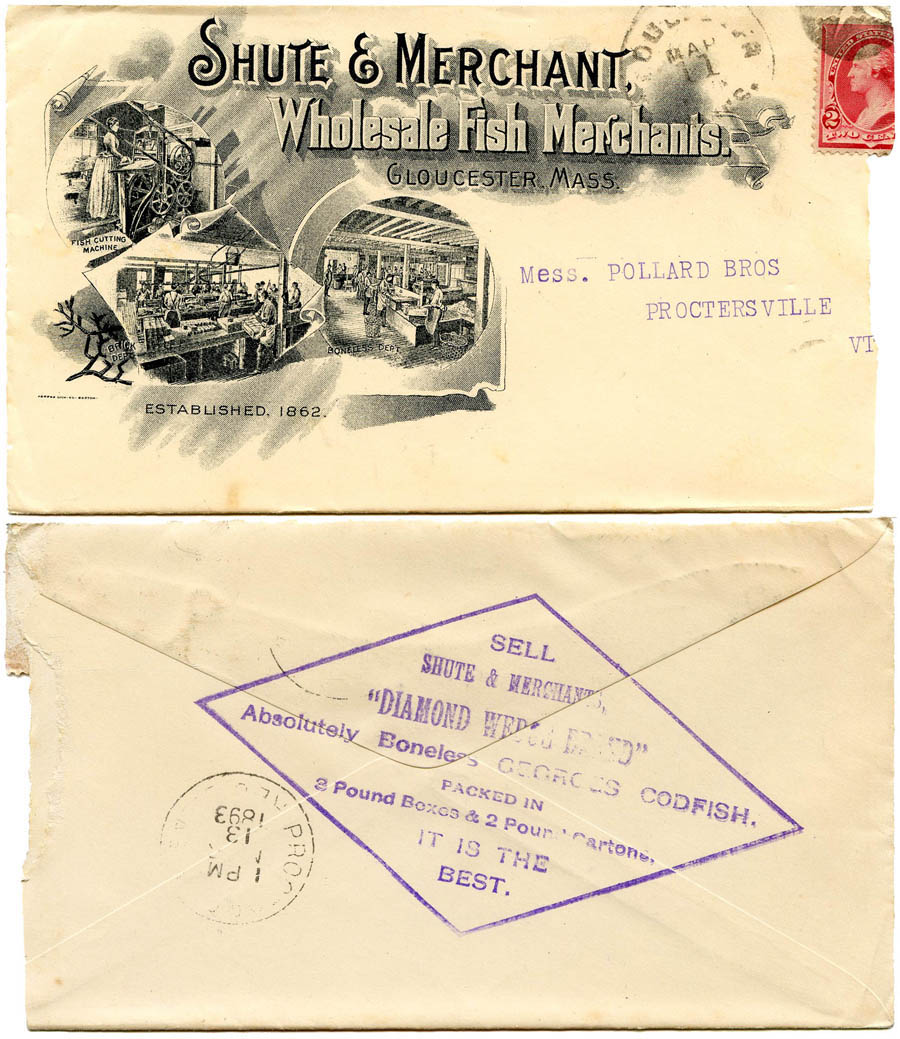 Adcovers for the firm used a graphic very similar to the images printed on the billheads. The graphic had to be modified in size and spacing in order to create enough space for the address on the envelope. Many companies, including Shute & Merchant, had rubber stamps made so additional information about selecting their fish products could be added to the envelopes and statements.
---