George Edward Merchant
(1853 - 1929)
As had many members of his family, George E. Merchant started out trying the life of a fisherman. He first left for sea as a cook aboard a vessel when he was just 16, and his life at sea lasted only eight years.
After making the decision to pursue something different for a career, he chose to enter the trade of printing. In 1870 he answered an ad place by John S. E. Rogers, and from that point on worked in that business. George worked for the Cape Ann Breeze and the Gloucester Times for a number of years, and worked for the Allen Print Company in Beverly MA, until health problems forced him to retire.
He and Charlotte had four children:
| | | |
| --- | --- | --- |
| | Eugene Howard | 1880 - 1880 |
| | Fitz Otis | 1880 - 1880 |
| | Ernest Howard | 1886 - 1956 |
| | George Edward, Jr. | 1888 - abt. 1942 |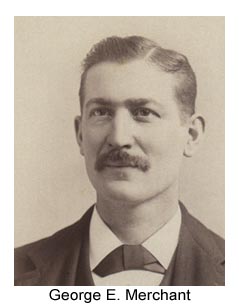 George E. was also involved in Gloucester politics, first getting involved in 1870. Several decades later, in 1900, was elected Mayor of the city.
It is not known exactly when George E. became intrigued with the history of his family, but he is credited with beginning to record the genealogy of the Merchants who descended from Jabez Merchant. His first collection of materials resulted a small book, The Merchants of Cape Ann, published in 1914. Many of the pages of his hand-written notes about the family still exist, and led to the publication of the House of Jabez -- Chronicles of the Merchant-Marchant Family, self-published in 1987 by Frank R. Merchant.