William Thomas Shute
(1861-1920)
In 1861, William T. Shute was the third child born to James L. and Abbie Shute, and was named after his mother's brother and father's business partner. When he was old enough he began working as a clerk for Shute & Merchant, and appears to have been the only family member on either side to take a serious interest in the family business. His youngest brother Roy did work for Shute & Merchant for a short period of time.
William raised his family in a house at 9 Bellevue Ave. in Gloucester. This house was built and given to him and Mattie as a wedding gift from his father. When number 9 was built, the street was unpaved and there was no through traffic. There were only four other houses on their side of the street, and their house had open fields on both sides. In the back, the yard sloped away and provided a great view of the river.
He and Mattie had five children:
| | | |
| --- | --- | --- |
| | Kenneth Bruce | 1886 - 1941 |
| | Margaret "Peg" Grover | 1894 - 1977 |
| | George Haase | 1897 - 1968 |
| | James Lovell, III | 1900 - 1981 |
| | Benjamin Smith | 1904 - 1998 |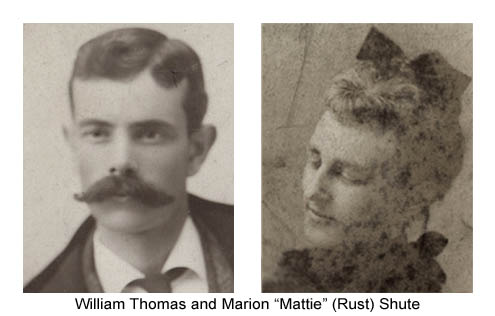 Before William became an active partner in Shute & Merchant, it had experienced some financial issues. Most of those seem to have been resolved by the time he was an active partner in the firm, as in 1892, the "Official Programme" for the 250th Anniversary of the Incorporation of Gloucester, indicated things were going very well. By 1906, the economy in general was creating more financial distress for businesses, and this may be why William launched an advertising campaign using scenic postcards of the Cape Ann area. Economic issues and, the way businesses operated ... merging into larger firms instead of smaller, family-owned ... may have influenced the timing of the sale of Shute & Merchant to Gorton-Pew. William had completely taken over the operations of the firm by then, and handled the entire sale and transition.
(more about his life and family can be found by clicking the image)